Difference between revisions of "HexQuilts"
From IncendiaWiki
Line 40:
Line 40:
 
 
 

====Quilt Index====

 

====Quilt Index====

 
+
 
+
 

===Main Panel===

 

===Main Panel===

 

====New====

 

====New====
---
Revision as of 14:19, 19 June 2017
About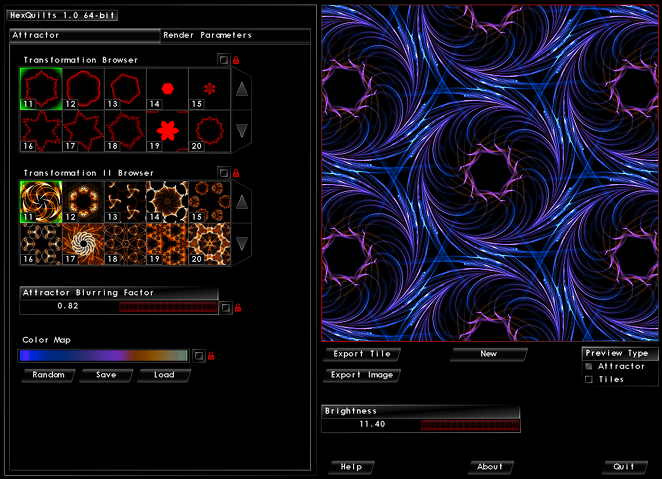 Quilts is the update version of the Hexagonal Quilts generator. This program implement variations of the Chaotic Quilts, that appears in the Symmetry in Chaos book.
In addition to the variations, Quilts allows you to select many color mapping methods and other effects.
Important Note: Quilts is a CPU intensive program, due to the large amount of trigonometric operations that it uses.
Controls
Attractor Tab
Transformations
Attractor Blurring Factor
Color Map
Render Tab
Quilt Resolution
Tiled Image Resolution
Antialiasing
Output
Color Mapping Functions
Intensity Functions
Refresh Interval
Quilt Index
Main Panel
New
Preview Type
Brightness
Help
About
Quit
Export Buttons